Welcome
Yes, we are open – yes, we have a notary.  No, there is no charge for that.
————–
Yes, EIP payments are being sent to some people as debit cards.
"If your Card is permanently lost, it is important that you call Customer Service at 1.800.240.8100 (TTY: 1.800.241.9100) to report your lost or stolen Card immediately. Your Card will be deactivated to prevent anyone from using it and a new1 replacement Card will be ordered."
——————
Directives from NYS on phase 2 reopening of businesses – please read the summary, send the affirmation and create a reopen plan
https://forward.ny.gov/phase-two-industries
——————-
Due to the current restrictions we are not doing our usual sit down appointments with our clients.  To limit our contact and exposure between ourselves and our clients, we are asking they drop off the documents or mail them to our PO Box 2241, Kingston, NY 12402. 
IRS has postponed the tax deadline and payment deadline to July 15th.  NYS has now confirmed they have also postponed the due date.  These extensions include estimated payments as well as current taxes.
If a client would like us to file an extension to Oct 15th, we would be happy to do that on an individual basis. 
We now have the ability to file an Economic Impact Payment Return (a zero return) to make it easier for those who do not need to file and do not receive social security to receive the Economic Impact Payment.  IRS now has a way to submit your information for Economic Impact Payment https://www.irs.gov/coronavirus/non-filers-enter-payment-info-here
If you are a client of ours and would like to use a secured ShareFile space to share documents with us, please call us and we will set that up for you.
_______________________
As part of the CARES plan from the Fed, there is a new "Above the line deduction" for charitable contributions made in 2020.  This means that if you are NOT itemizing your deductions (most of us don't) you can now deduct $300 in charitable contribution.  So, consider supporting your favorite charity and get the tax deduction too
_________________
"IRS: Employee Retention Credit available for many businesses financially impacted by COVID-19
The Treasury Department and the IRS recently announced the new Employee Retention Credit, designed to encourage businesses to keep employees on their payroll. The refundable tax credit is 50% of up to $10,000 in wages paid by an eligible employer whose business has been financially impacted by COVID-19.
Qualifying employers must fall into one of two categories:
The employer's business is fully or partially suspended by government order due to COVID-19 during the calendar quarter.

The employer's gross receipts are below 50% of the comparable quarter in 2019.
For more information, see the complete March 31, 2020 IRS news release and the Employee Retention Credit FAQs."
https://www.irs.gov/newsroom/irs-employee-retention-credit-available-for-many-businesses-financially-impacted-by-covid-19
_______________
Corona Virus economic income payment to individual taxpayers
$1200 per person and additional $500 for children.  No action required for most people.   Payment will go to the account or address you had your most recent tax return deposited to (2018 or 2019) or where you get your social security payment.
Some people will receive a debit card instead of a check.
These Economic Impact Payment Cards arrive in a plain envelope from Money Network Cardholder Services. The Visa name will appear on the front of the card; the back of the card has the name of the issuing bank, MetaBank®, N.A. Information included with the card will explain that the card is an Economic Impact Payment Card.
Those who receive Economic Impact Payment by prepaid debit card can do the following without any fees.
Make purchases online and at any retail location where Visa is accepted
Get cash from in-network ATMs
Transfer funds to their personal bank account
Check their card balance online, by mobile app, or by phone
This free, prepaid card also provides consumer protections available to traditional bank account owners, including protection against fraud, loss, and other errors.
The card will come with instructions on how to activate and use it. Learn more at www.eipcard.com.
If you want to check the status of your credit or if you want to add your bank account info
https://www.irs.gov/coronavirus/get-my-payment
If you did not file in 2018 or 2019 or receive Social Security/Railroad benefits, use this link to file a ) return to ensure you get a payment.
https://www.irs.gov/coronavirus/non-filers-enter-payment-info-here
Below is from a notice from the IRS https://www.irs.gov/newsroom/economic-impact-payments-what-you-need-to-know
"Updated with new information for seniors, retirees on April 1, 2020. Also see Treasury news release.
IR-2020-61, March 30, 2020
WASHINGTON — The Treasury Department and the Internal Revenue Service today announced that distribution of economic impact payments will begin in the next three weeks and will be distributed automatically, with no action required for most people. However, some taxpayers who typically do not file returns will need to submit a simple tax return to receive the economic impact payment.
Who is eligible for the economic impact payment?
Tax filers with adjusted gross income up to $75,000 for individuals and up to $150,000 for married couples filing joint returns will receive the full payment. For filers with income above those amounts, the payment amount is reduced by $5 for each $100 above the $75,000/$150,000 thresholds. Single filers with income exceeding $99,000 and $198,000 for joint filers with no children are not eligible. Social Security recipients and railroad retirees who are otherwise not required to file a tax return are also eligible and will not be required to file a return.
Eligible taxpayers who filed tax returns for either 2019 or 2018 will automatically receive an economic impact payment of up to $1,200 for individuals or $2,400 for married couples and up to $500 for each qualifying child.
How will the IRS know where to send my payment?
The vast majority of people do not need to take any action. The IRS will calculate and automatically send the economic impact payment to those eligible.
For people who have already filed their 2019 tax returns, the IRS will use this information to calculate the payment amount. For those who have not yet filed their return for 2019, the IRS will use information from their 2018 tax filing to calculate the payment. The economic impact payment will be deposited directly into the same banking account reflected on the return filed.
The IRS does not have my direct deposit information. What can I do?
In the coming weeks, Treasury plans to develop a web-based portal for individuals to provide their banking information to the IRS online, so that individuals can receive payments immediately as opposed to checks in the mail.
I am not typically required to file a tax return. Can I still receive my payment?
Yes. The IRS will use the information on the Form SSA-1099 or Form RRB-1099 to generate Economic Impact Payments to recipients of benefits reflected in the Form SSA-1099 or Form RRB-1099 who are not required to file a tax return and did not file a return for 2018 or 2019. This includes senior citizens, Social Security recipients and railroad retirees who are not otherwise required to file a tax return.
Since the IRS would not have information regarding any dependents for these people, each person would receive $1,200 per person, without the additional amount for any dependents at this time.
I have a tax filing obligation but have not filed my tax return for 2018 or 2019. Can I still receive an economic impact payment?
Yes. The IRS urges anyone with a tax filing obligation who has not yet filed a tax return for 2018 or 2019 to file as soon as they can to receive an economic impact payment. Taxpayers should include direct deposit banking information on the return.
I need to file a tax return. How long are the economic impact payments available?
For those concerned about visiting a tax professional or local community organization in person to get help with a tax return, these economic impact payments will be available throughout the rest of 2020.
Where can I get more information?
The IRS will post all key information on IRS.gov/coronavirus as soon as it becomes available.
The IRS has a reduced staff in many of its offices but remains committed to helping eligible individuals receive their payments expeditiously. Check for updated information on IRS.gov/coronavirus rather than calling IRS assistors who are helping process 2019 returns."
___________________________________________________________________________________________________________
https://covid19relief.sba.gov/#/
This is a loan for small business impacted by Corona Virus (and who isn't).  This application is the initial screening and includes the possible $10,000 grant.
SBA says "We know you are facing challenging times in this current health crisis. The U.S. Small Business Administration is committed to help bring relief to small businesses and nonprofit organizations suffering because of the Coronavirus (COVID-19) pandemic.
On March 27, 2020, President Trump signed into law the CARES Act, which provided additional assistance for small business owners and non-profits, including the opportunity to get up to a $10,000 Advance on an Economic Injury Disaster Loan (EIDL). This Advance may be available even if your EIDL application was declined or is still pending, and will be forgiven.
If you wish to apply for the Advance on your EIDL, please visit www.SBA.gov/Disaster as soon as possible to fill out a new, streamlined application. In order to qualify for the Advance, you need to submit this new application even if you previously submitted an EIDL application. Applying for the Advance will not impact the status or slow your existing application."
Coronavirus (COVID-19): Small Business Guidance & Loan Resources
Health and government officials are working together to maintain the safety, security, and health of the American people. Small businesses are encouraged to do their part to keep their employees, customers, and themselves healthy.
---
Paycheck Protection Program
The Paycheck Protection Program prioritizes millions of Americans employed by small businesses by authorizing up to $349 billion toward job retention and certain other expenses.
Small businesses and eligible nonprofit organizations, Veterans organizations, and Tribal businesses described in the Small Business Act, as well as individuals who are self-employed or are independent contractors, are eligible if they also meet program size standards.
Under this program:
Eligible recipients may qualify for a loan up to $10 million determined by 8 weeks of prior average payroll plus an additional 25% of that amount.
Loan payments will be deferred for six months.
If you maintain your workforce, SBA will forgive the portion of the loan proceeds that are used to cover the first 8 weeks of payroll and certain other expenses following loan origination.
Click here to learn more.
Economic Injury Disaster Loans and Loan Advance
To apply for a COVID-19 Economic Injury Disaster Loan, click here.
In response to the Coronavirus (COVID-19) pandemic, small business owners in all U.S. states, Washington D.C., and territories are eligible to apply for an Economic Injury Disaster Loan advance of up to $10,000.
The SBA's Economic Injury Disaster Loan program provides small businesses with working capital loans of up to $2 million that can provide vital economic support to small businesses to help overcome the temporary loss of revenue they are experiencing. The loan advance will provide economic relief to businesses that are currently experiencing a temporary loss of revenue. Funds will be made available within three days of a successful application, and this loan advance will not have to be repaid.
The SBA Debt Relief program will provide a reprieve to small businesses as they overcome the challenges created by this health crisis.
Under this program:
The SBA will also pay the principal and interest of new 7(a) loans issued prior to September 27, 2020.
The SBA will pay the principal and interest of current 7(a) loans for a period of six months.
Express Bridge Loan Pilot Program allows small businesses who currently have a business relationship with an SBA Express Lender to access up to $25,000 with less paperwork. These loans can provide vital economic support to small businesses to help overcome the temporary loss of revenue they are experiencing and can be a term loans or used to bridge the gap while applying for a direct SBA Economic Injury Disaster loan. If a small business has an urgent need for cash while waiting for decision and disbursement on Economic Injury Disaster Loan, they may qualify for an SBA Express Disaster Bridge Loan.
Terms
Up to $25,000
Fast turnaround
Will be repaid in full or in part by proceeds from the EIDL loan
Find an Express Bridge Loan Lender by connecting with your local SBA District Office.
___________________________________________________________________________________________________________
This website exists to provide clients and potential clients with information concerning our firm and our unique, low-pressure approach to personal and professional services. We have an excellent client-retention rate, and we are extremely proud of the high-quality services that our firm provides.
Please, feel free to browse our website to see the services we offer as well as the many helpful resources we provide. When you are ready to learn more about what we can do for you, we encourage you to contact us at 845-802-0371.
Who We Are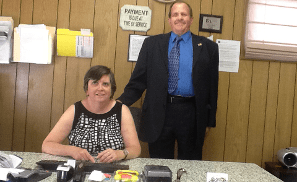 Marianne E Wood-Jensen is a full-service accounting firm in Kingston, New York. M Wood Jensen is also an enrolled agent with the IRS and QuickBooks Pro Advisor. With over 20 years of experience in accounting, bookkeeping, and tax services, we have the answers you need at a price you can afford. Our extensive array of tax services includes tax preparation and all aspects of accounting for your business or nonprofit organization.